550 LUMEN MULTIFUNCIONAL FRONT BIKE LIGHT WITH USB CHARGHING FOR SMARTPHONE
LIG-MULTI
550 LUMEN MULTIFUNCTION LIGHT + bike horn + USB smartphone charging
LIGHT + SMARTPHONE CHARGER + HORN FOR BIKE.

Model: LIG / MULTI
Power: 550 LUMEN
Material: Technopolymer
Light body dimensions: 140x40x65mm
Modes: High, Medium, Flash.
Weight: 230g complete with attachment.
Battery Capacity: 4000mAH
Duration: 3 hours in Alta - 6 hours in Flash
Charging time: about 5 hours. Until the charge lamp stops blinking.

USER GUIDE

Power on:
Press the switch to turn on the light with 3 modes:
High, Medium, Flash.
To use the smartphone holder
FIRST MAKE SURE YOUR SMATPHONE IS COMPATIBLE
WITH THIS PRODUCT AND MAY BE WELL ANCHORED.
WE DO NOT RECOMMEND ANY OFF-ROAD OR ROAD USE
DISCONNECT.
Then spread the two side flaps and insert the smartphone.
Carry out leak tests safely.
You can charge your smartphone via the USB plug.
To use the horn, connect the button to the light socket,
And fix it on the bike handlebar.

Supply:
Recharge with the appropriate USB cable, until the charging light stops flashing.
The lights at the top indicate the battery charge.

Assembly:
First mount the stem on the bike handlebar, making sure it is well fixed.
Slide the light body on the guide of the attachment until it clicks.
To remove the headlight, push the attachment lever and remove the light.

ATTENTION:
The light will heat up during use. It's normal.
Be careful and use gloves if necessary.
IPX6 is waterproof. Do not throw the flashlight into water or fire
Store the light in a safe place and charge it when you don't use it for a long time.
Charge the light in a safe place every month.
Avoid looking directly at the led light.
Keep the light out of the reach of children.
Do not disassemble or repair the led light by yourself.
Battery warranty duration 1 year.
Do not keep the light at low temperatures for a long time,
so as not to damage them. Storage temperatures from 5 ° to 30 °.
No customer reviews for the moment.
550 LUMEN MULTIFUNCIONAL FRONT BIKE LIGHT WITH USB CHARGHING FOR SMARTPHONE
€

20.34

in_stock!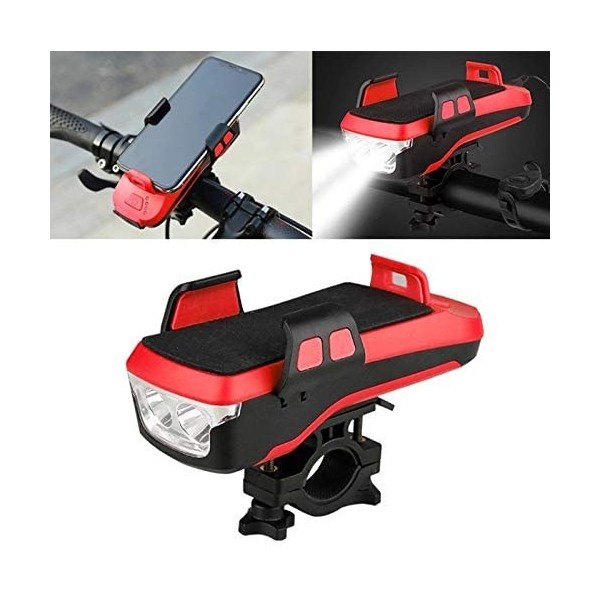 550 LUMEN MULTIFUNCTION LIGHT + bike horn + USB smartphone charging
0.30 kg